Applies to: SharePoint Online
Introduction
This article describes installation of Crow Canyon NITRO Studio. This installation uses the NITRO Framework app with tenant level permissions
Pre-requisites
User Permissions

User doing the installation needs tenant admin rights on the SharePoint online tenancy where NITRO is being installed

Site Collection

To install NITRO Studio in a new site collection, tenant administrator can create a new site collection
Or installation can be done in an existing site collection

App Catalog

Installation requires Crow Canyon NITRO Apps (SharePoint Add-ins) to be installed in the site collection. Apps needs be added to the app catalog site of the tenancy. Since these apps require tenant level permissions, we cannot use site collection level app catalog for the installation
Package Information
| | | |
| --- | --- | --- |
| App Name | Description | Download |
| Crow Canyon Nitro Studio | Main NITRO Studio App that is used to activate NITRO features in sites and manage NITRO in activated sites | This App is available in SharePoint App Store and will be installed directly from there |
| Crow Canyon NITRO Framework (tenant) | Used by NITRO Studio App for working with SharePoint Online. It provides the base functionality and permissions for NITRO activation and updates | Download NITRO Framework App |
Summary of Steps
Add Crow Canyon NITRO Framework App to the App Catalog
Create Site Collection to install Crow Canyon Apps (or use an existing site collection)
Install NITRO in Site Collection

Install the NITRO Tenant Framework app and NITRO Studio app in the Site Collection root site
Setup dependency apps in the Site Collection from NITRO Studio
Activate NITRO to required site in the Site Collection
Detailed Installation Instructions
Installation steps and required roles:
Please refer this table for the required user role for the corresponding installation steps.
           Steps ⇒

Roles ⇓

Create App Catalog Site
Add Apps to the Catalog
Install Apps in Site Collection
Finish NITRO Setup
Activate NITRO in sites
Configure NITRO in sites
SharePoint Tenant Administrator
Create App Catalog for your SharePoint tenant.

It is likely that App Catalog site already exists if you have installed other Apps.

Approve App installation request from the App Catalog.

The request will be generated after app installation process is initiated by the site collection administrator

SharePoint Administrator or a user having contribute rights on App Catalog Site
Add CrowCanyon. NITROFrameworkEx.app to the app catalog. Please note:

Nitro Studio App can be installed from SharePoint App store directly and doesn't need to added in catalog
This step can be done by SharePoint Tenant Administrator or any user who has contribute rights on the app catalog site

Site Collection Administrator
Install app "Crow Canyon NITRO Studio" from SharePoint App Store.

Install app "Crow Canyon NITRO Framework (tenant)" from the App Catalog. Note:

This app requires approval from tenant administrator
Once tenant admin approves, continue installation of the App

Open NITRO Studio App, and click "Setup" button. It will install NITRO Workflows, NITRO Approval, Email Sync and Power Portal apps in the site collection

In NITRO Studio application page, select the site and click 'Activate' to setup NITRO on one or more sub-sites
Site administrator
From NITRO site page, click on the App icons to configure and use the NITRO Apps in site
Add Crow Canyon NITRO apps to App Catalog
Add all the apps to tenant app catalog site. Please refer detailed steps
Create Site Collection to install Crow Canyon Apps
Create a site collection using the "Team Site" template for root site. We can also use an existing site collection created with team site template. NITRO is also supported in other types of site collections e.g. Communications and new Group based Team sites. Please contact Crow Canyon support if you face any issue in activating using NITRO in any particular type of site collection
Install NITRO in Site Collection
Following Apps needs to be installed in the root site of the site collection:
Crow Canyon Nitro Studio
Crow Canyon NITRO Framework (tenant)
Please refer detailed steps to install these apps. Once NITRO Studio is installed, open the NITRO studio to finish the installation process and then you can activate NITRO in sites or install the pre-built NITRO applications in the site collection.
Setup dependency apps in the Site Collection from NITRO Studio
After installing the NITRO Studio in the site collection, go to the site contents page of the root site. Click NITRO Studio App to open the main page of NITRO Studio. If NITRO framework app is not yet installed then this page will show a message for the same. Once framework app is installed you can finish the NITRO installation process.
Main page will show a message with Setup button as shown below. Click on the Setup button to install all the required components for the NITRO Studio:
This setup button will install below mentioned Apps to App Catalog site and the same will be added to the Site Collection except NITRO Modern UI WebParts. This app will be installed in the site where we activate the NITRO studio:
App Name
Description
CrowCanyon.EmailSync.app
This App provides the functionality to monitor emails in a Microsoft Exchange mailbox and create those mails as SharePoint list items in O365
CrowCanyon.ApprovalWorkflow.app
Configure approval workflows easily on SharePoint lists
CrowCanyon.WorkflowManager.app
Configure business workflows on SharePoint lists. Supports workflows on list item create/update/delete, based on date time values in the list items and also scheduled workflows (fixed time or recurring Calendar)
CrowCanyon.ConfigurablePortal.app
Create easy to configure and use versatile Portal sites as a front end to your SharePoint business process sites. Provides customized UI and security settings to provide a simplified and secure interface to users
CrowCanyon.ProductApp.app
This App is used in some of the Crow Canyon's prebuilt business applications like IT Helpdesk. You can add it to the catalog at a later time as well when you actually use one of these applications
CrowCanyonNITROSPFxWebParts.sppkg

CrowCanyonNITROWebPartsII.sppkg

Provides NITRO features in SharePoint modern sites. Modern UI has different types of lists and pages and all the NITRO components are fully supported
Steps to add Apps in the App Catalog
Step 1: Navigate to 'Apps for SharePoint' library in App Catalog
Please use the tenant level App Catalog site to add the Crow Canyon Add-ins.
Navigating to the tenant App Catalog
Go to SharePoint Admin Center of your tenancy and click on 'apps' and then 'Apps Catalog' as shown below. Please refer this Microsoft article on more information about creating the App Catalog and using it for custom business Apps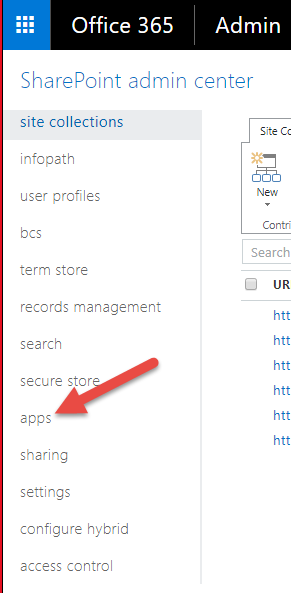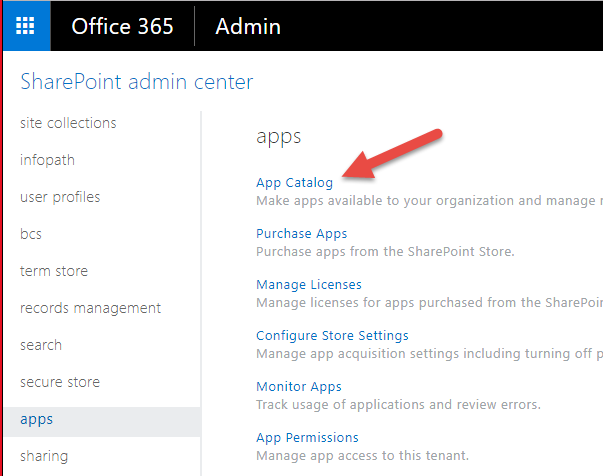 Choose 'Apps for SharePoint' from Quick Launch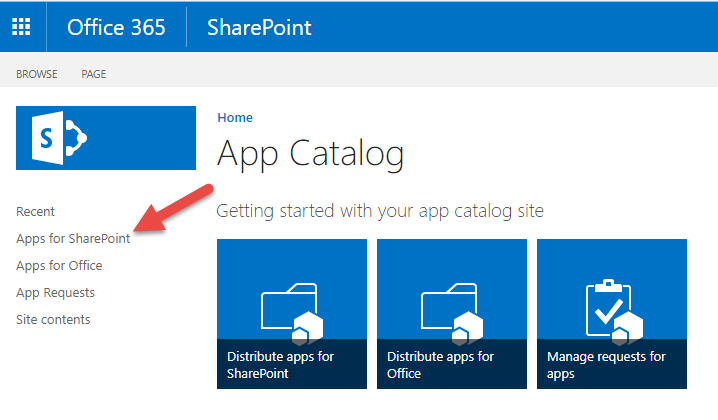 Step 2: Upload the Apps to the App Catalog library
Extract the .app file from the downloaded zip file from the Package Information above. Upload the CrowCanyon.NITROFrameworkEx.app file to 'Apps for SharePoint' as shown below.
Note: Crow Canyon NITRO Studio app is not required to be uploaded in catalog as it can be directly installed from the SharePoint App Store.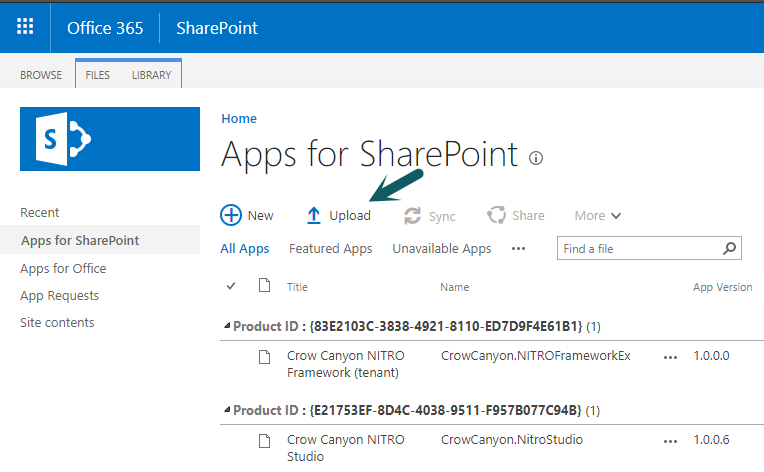 Steps to install Apps in the site
Please ensure that the App is added to the App Catalog as per above step. Also, the site collection where you want to install NITRO should be created, and you should have Site Collection Administrator privileges on the site collection. After that, follow the below steps.
Install Crow Canyon NITRO Studio App
This app is available in the SharePoint App Store and will be installed from there.
Go to the NITRO Studio page in the App Store using this link
Use the "Get It Now" button on the App Store page to download and install NITRO Studio. You will need to login to your Office 365 account to install this if you are not logged in already
You will be asked to choose which Site to install NITRO in. Please select the required site in the drop-down and click 'Continue' and follow the rest of on-screen steps to install the app in the site collection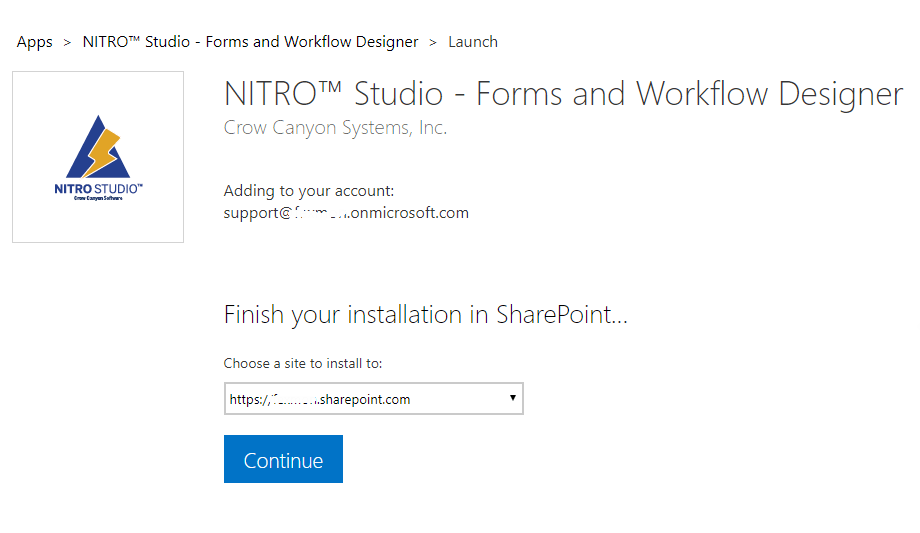 Install Crow Canyon Tenant Framework App
To add Crow Canyon Tenant Framework app, we need approval from tenant admin. Please refer Microsoft Article for more details
Step 1 – Go to root site of the Site Collection
It will have URL like https://<your SharePoint tenant name>.sharepoint.com/sites/<your site collection URL name>
Step 2 – Go to the "cog" (gear) in upper right and select 'Add an app' from the list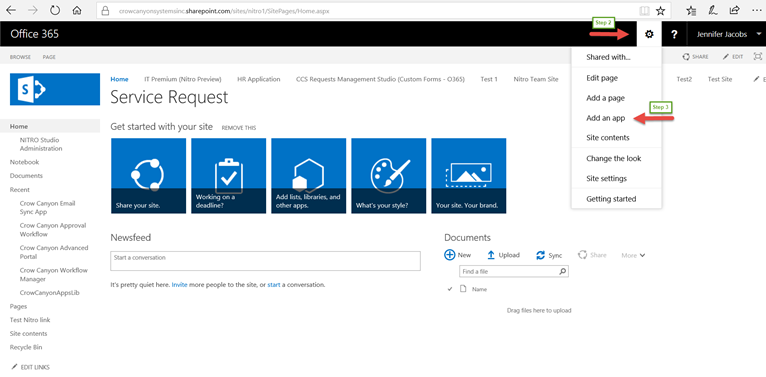 Step 3 – In the Quick Launch on the left side, choose 'From Your Organization'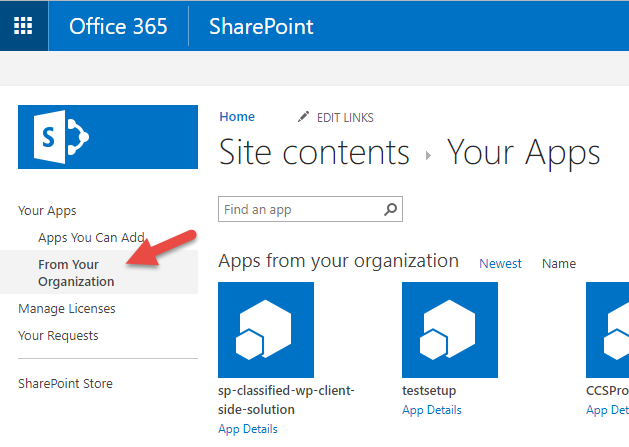 Step 4- Click on the App tile 'Crow Canyon NITRO Framework (tenant)'
If you see message "You can't add this app here", click "Find out why" and request the tenant admin to approve the app: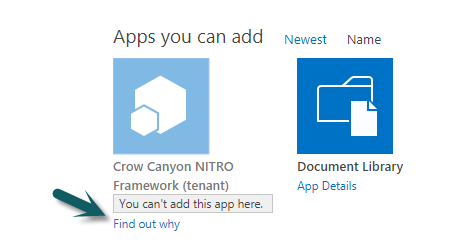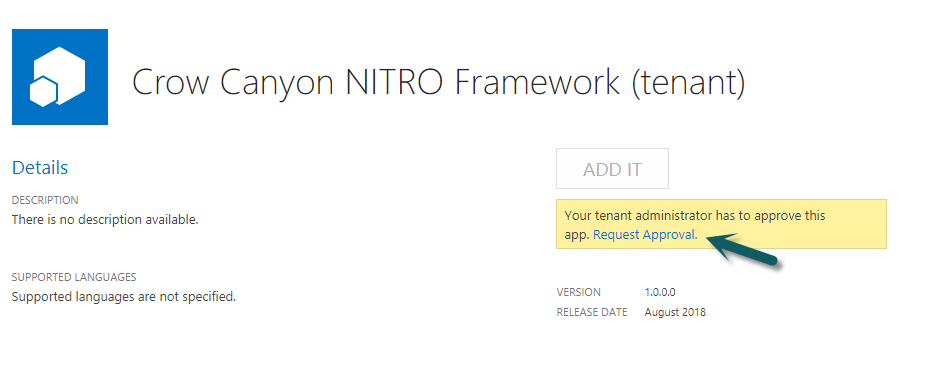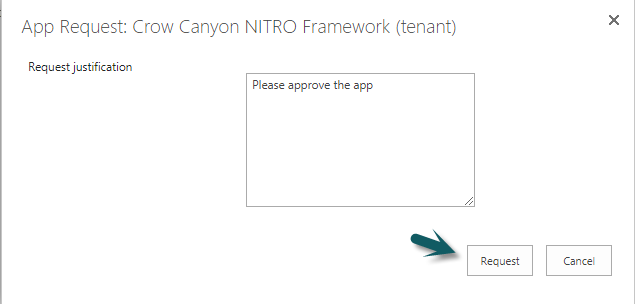 Go to App Catalog Site –> App Requests –> Click on the Crow Canyon NITRO Framework app and approve the request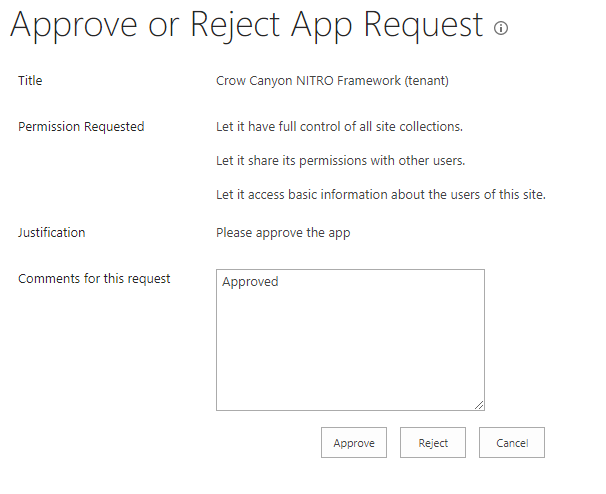 Once the tenant Admin approves the app, go to Site Collection and add the Crow Canyon NITRO Framework (tenant) App to the Site Collection.
Go to Site Contents –> add an app –> From Your Organization –> Add Crow Canyon NITRO Framework (tenant) App.
Please contact Crow Canyon support in case you face any difficulty in NITRO studio installation.
Note
If you have installed the NITRO in Site Collection, please refer this Article to activate the NITRO for a sub site and to install the prebuilt Crow Canyon NITRO applications.