Applies to: SharePoint Online
Starting around July 29, 2020, Microsoft rolled out changes to SharePoint Online in M365 that changed the way NITRO Forms are rendered. If you are accessing a SharePoint list item from the Modern UI list view, you may get the standard SharePoint form, which opens in a panel on the right side of the page:
Here's how to fix it:
Navigate to NITRO Forms for the list in the list ribbon:

If you have multiple forms, you'll get the below screen. Make sure to click the Modern option as for the Form Experience. Then edit any form for the list: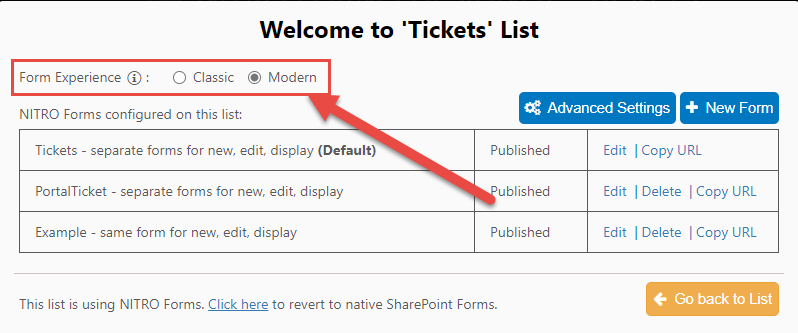 If you have a single form for the list, click on the Manage Forms link in the upper right to get to the above screen:

Once you've selected Modern for the Form Experience and are editing any form, simply hit "Publish" in the upper left of the screen:

You only need to do this once per list, regardless of the number of forms you have for the list. The Form Experience option applies to all forms automatically.