Applies to:
Crow Canyon NITRO activated sites in:
SharePoint Online and On-Premises 2013/2016/2019/SharePoint Server Subscription Edition
Description
In NITRO Forms, files or documents can be attached to an item from 'Attachments' section and using 'NITRO Attachments' column.
These files can be restricted using validations in attachment settings.
In this sample article, we have configured validation on 'Attachments' section to allow maximum of two attachments to be attached to an item in NITRO Forms.
Detailed steps
Configure validation for 'Attachments' section in NITRO Forms.
Go to the list -> List Settings -> Crow Canyon NITRO Forms -> Select 'Attachments' section -> Configure the validation as shown below from 'Attachment Settings'.
Configure validation as shown below: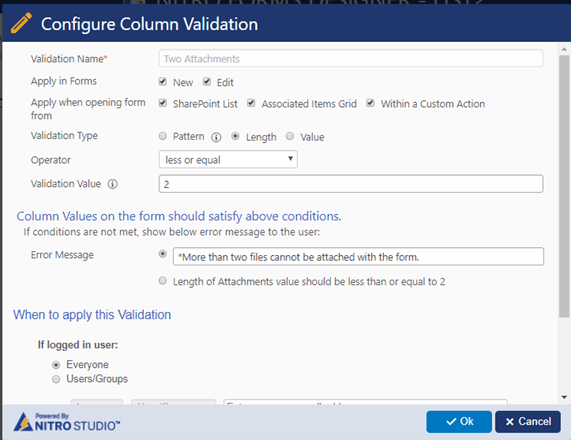 Sample output