Survey Functionality:
Survey is to know 'Requester' satisfaction/feedback on service provided after resolving their issue. In CrowCanyon Service Request, 'Requester' will receive a link to fill 'Survey' when a Ticket gets closed.
Configuration of Basic Survey:
Here are the instructions to link the 'New Survey Request' in the Notification on ticket completion and linking it to the Ticket item.
1. Download "CCSIDPopulatorV3.6.js" file from attachments. Add the "CCSIDPopulatorV3.6.js" in the script document library.
Go to Site Contents –> Script Documents library–> Add the file here.
2. Open the "Service Satisfaction Survey" list and change the URL from overview.aspx to newform.aspx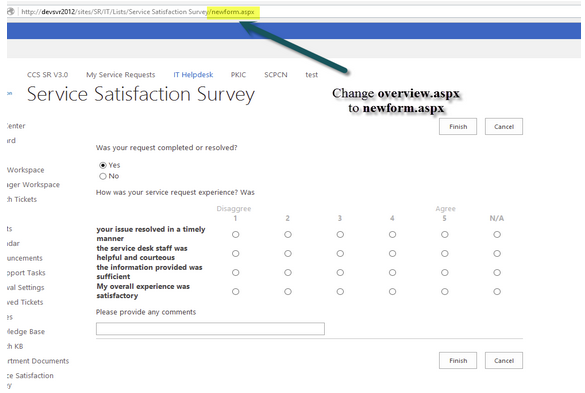 3. Edit the page and Add Content editor webpart


4. Edit the webpart and add the CCSIDPopulatorV3.6.js file url as shown below.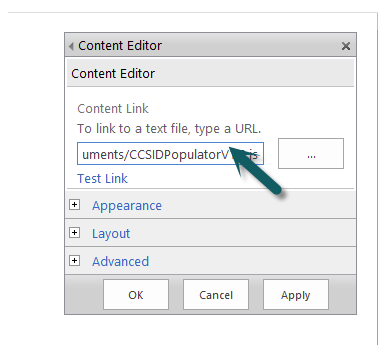 5. Create the "RelatedTicketID" lookup field pointing to tickets list "ID" field. Open this field and rename to "Related Ticket ID"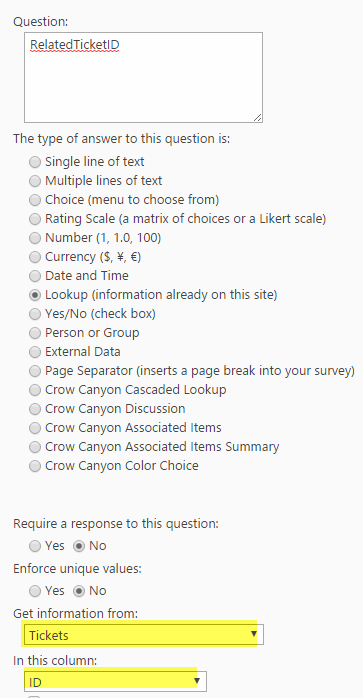 6. Add the Survey list newform.aspx URL with "?TID=<<ID>>" query string in the Notification on ticket Completion mail template as shown below.
Go to Application Administration –>Notifications –>Notifications on Ticket Completion–> add the url like below.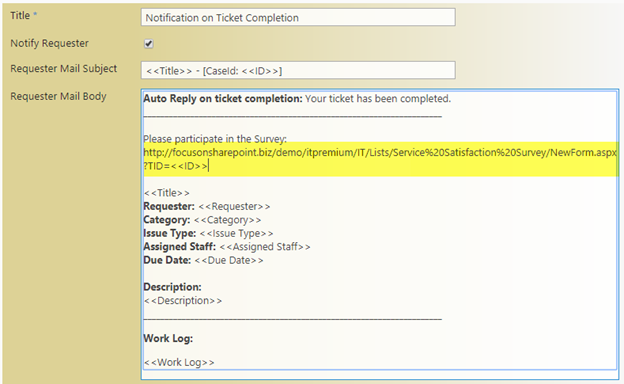 7. Now create the Infowise Associated Item field in the Tickets list pointing to Survey list "Related Ticket ID" field and add this field to desired tab.