Just a quick note on version numbers. We went from 2.0.0.89 to 2.5.1.0. There were no version releases in between.
NITRO Studio UI
The big change this week is the change to the NITRO Studio UI itself! We have moved to a lighter look and feel, updated the header, and moved some links around to hopefully make things easier to find. We also added in some common administrative links that we hope you'll find helpful.
When accessing NITRO Studio for your site, the screen will now look like this:
All of the familiar NITRO Studio Apps will be there. We moved Custom Actions to the top bar, but left most everything else where it was. The biggest change you'll notice is that you now have a few more links in the top of the left-side panel: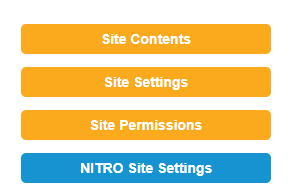 We've added links to Site Contents, Site Settings, Site Permissions, and also NITRO Site Settings. These will make it much easier to access these elements while working within NITRO.
When a new NITRO version is released, you'll see this icon for updating the site:

In the NITRO Admin Home page, we have moved the subscription details to the left panel, and also provided a link to Site Permissions for the root site of the site collection where NITRO is deployed. This will give you quicker access to this important administrative function: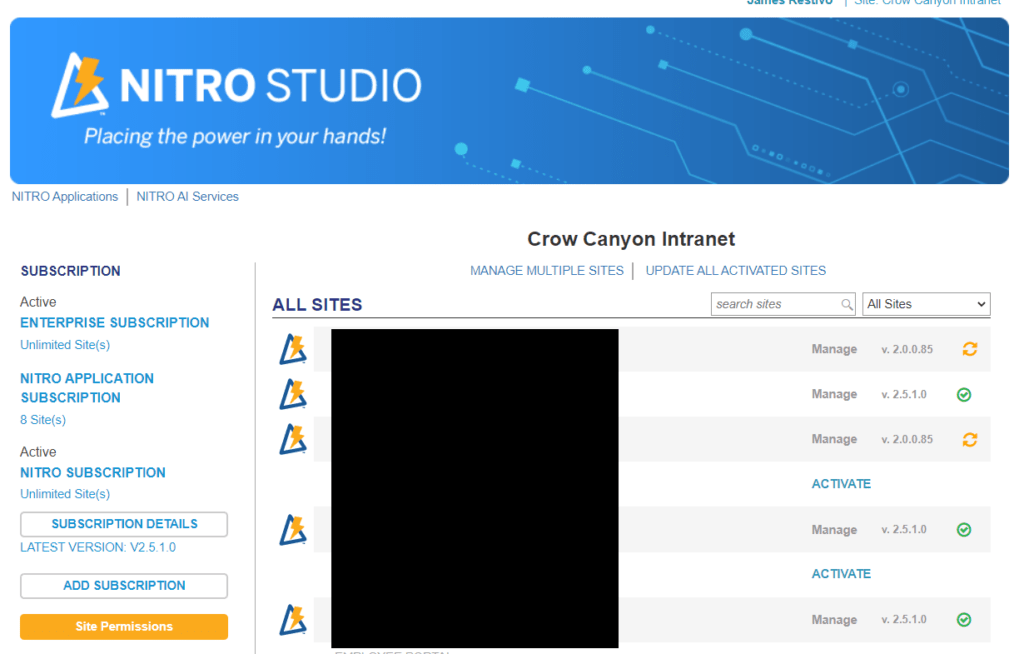 We've also changed the look and feel of our NITRO settings. The content and functionality will be the same, but the header and footer will have a lighter look to them. Here is Custom Actions as an example: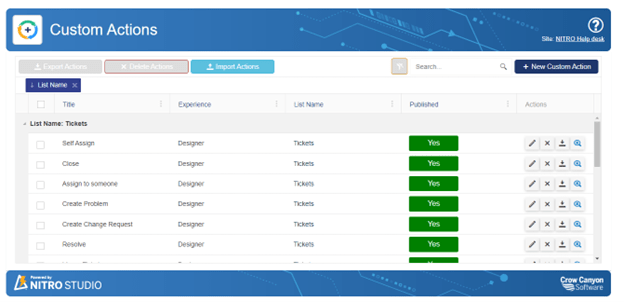 NITRO Forms
There is a new custom column type called NITRO User Column. This allows you to convert a person or group column into a drop down and also add in filtering for the column based on a group selected in another column.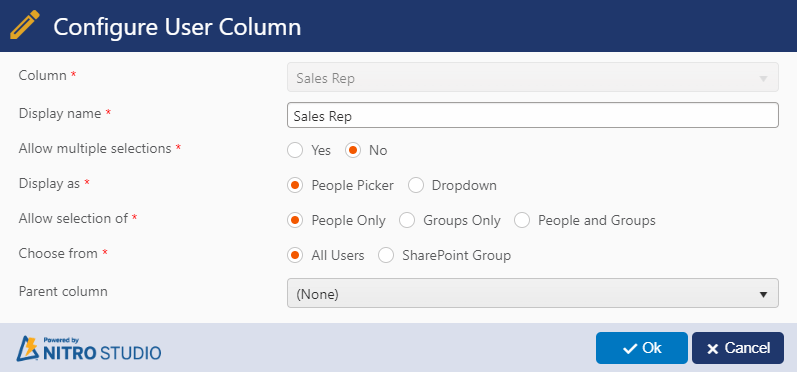 The Parent column will contain the group selection, which then filters your options available in the dropdown.
NITRO Workflows
We released features for our NITRO on-prem version to keep in sync with our O365 releases including:
Export to Excel for workflow details
New functions for "GetGroupMembers" and "join"