How to install Crow Canyon Outlook Addin
Applies To: SharePoint Online and SharePoint On-Premises
Crow Canyon Outlook Add-in is used to create new Tickets from Emails in the mailbox or link the emails to existing Tickets in our Help Desk Application.
Please download the Crow Canyon Outlook to SharePoint Add in Package from OutlookSharePointAddin.
Steps to Install the Outlook Add-in:
– Extract the files from the Zip Folder
– Open the Folder "OutlookSharePointAddin"
– Based on the Outlook version, open the Outlook folder
Note: Outlook 2013 Setup is compatible to Outlook 2016 Version also
– Select the Folder and run the Setup file "CCSOutlookToSharepointSetup.msi" (Run as Administrator) and Click on Next
The Support Email Address needs to be specified here.
For SharePoint On Premises:
The email address to be specified here will be the Email Tickets list email address in Help Desk Module. To get the email address of this list, please go to Help Desk Site –> Site Contents –> Email Tickets list –> List settings –> Communications –> Incoming e-mail settings
See sample image below

For SharePoint Online:
The email address that is used in configured in the Email Sync Settings need to be specified here. To navigate to the email sync settings, please go to Help Desk site –> Application Administration –> Crow Canyon NITRO Apps –> Email Sync. See sample image below

Please wait while the setup is doing the installation. It may take around 2-3 minutes to complete the install and shows below window. After the installation is completed, click on Close.
Now restart the Outlook and the Add In options should be available in the ribbon in the Outlook
Sample image of Outlook ribbon after installation:

There will be three options for our Outlook to SharePoint Addin
1. New Service Ticket:
This button will open a new email with pre-filled Support email address, requester can fill in the information like subject and body regarding the issue and click on Send
2. Convert email to Ticket:
This option is to convert any email in the outlook to a ticket in the Help Desk site. Select the email that needs to converted as a ticket and click on this button. A new ticket will be created with "Subject" of the email as Ticket "Title" and the email body as the "Description" of the ticket.
3. Link email to Ticket:
This option is to add/link certain email to a ticket. This can be done by specifying the Ticket Case ID. Select the Email that needs to be linked to a ticket and click on this button. It prompts to fill in a Case ID, specify the Case ID and click on OK. See sample screenshot below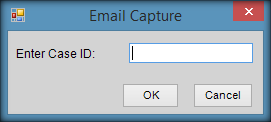 Steps to install Outlook add-in in silent mode
1. Command to install Outlook add-in in silent mode:
msiexec /i "Add-in msi file location\CCSOutlookToSharepointSetup.msi" /quiet /qn /norestart
2. Update the "SupportEmail" registry string value present at "HKEY_LOCAL_MACHINE\SOFTWARE\Crow Canyon Systems\CCSOutlookToSharepoint\SR" in client machine's registry editor with the SharePoint "Email Tickets" list's email address